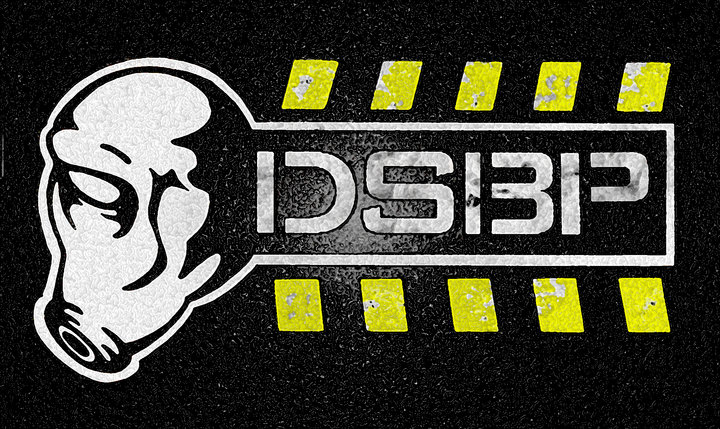 DSBP RECORDS specializes in ELECTRONIC, INDUSTRIAL, POWER NOISE, EXPERIMENTAL, EBM, IDM, COLDWAVE, SYNTHPOP MUSIC! spanning 20 + years in the UNDERGROUND INDUSTRIAL SCENE
Futronik Structures vol.1

1. Blind Passengers - "Respect Yourself (phase club mix)"
2. CON - "Down"
3. Mimic Mind - "Lies For Answers"
4. Tubalcain - "God on the Tongue"
5. Biopsy - "Never Inhale"
6. A New January - "Bleed"
7. Pivot Clowj - "Blackout"
8. diverje - "Body Worship"
9. Aurifex - "Human Geography"
10. 162 - "Darkness"
11. The Man - "Captivity"
12. Crying Room - "Her Overcoat"
13. Audio Paradox - "Parasitic"
14. Epidemic Cause - "Anniversary of Mental Derangement"
15. in-FUSED - "No Trust v2"
16. Bytet - "Anything"
17. Provizion - "Connect"


ARTIST: VARIOUS
TITLE: Futronik Structures vol.1
CATALOG#: DSBP#1012
Reviews
"don't support the corporate trend of cheese music..but the elektro-cyber -industrial music,it needs your help...." such are the lines included inthe catalog of DSBP,one of the most powerful USA Cyberwave-oriented labels.Each of their collections is characterized with strict orientation in the selection of groups-they are the best of what could be offered to know true Cyber -industrial. Unlimited outburts of emotions and energy are packed into electronic aggression of sound and rhythm.Unique combination of computer passages,distorted vocal and electronic drums with chopped melodies gave birth to a solid wall of electronics. track 2 - CON-very harsh elektro,sometimes with elements of gothic, track 3 -MIMIC MIND -group from Holland.thrilling mixture of Darkwave,dance Elektro and European EBM.i recommend their "plunder for profit" release,licensed to DSBP.Track 4-TUBALCAIN -represent vocalist Athan Maroulis from SPAHN RANCH! Track 5 -BIOPSY-Brazillian group mixing EBM and Metal with energy and aggressiveness.after dissolving of Cri Du Chatlabel they have signed with DSBP,and in their interview with DLK were very laconic:"DSBP will be big." track #8 DIVERJE -private project of Tommy T.,DSBP's owner. Highly recomended due to its sound,unique on the electro scene! united stream of Cyber Metal,Industrial and elektro,combined with pseudo sample guitar and amplified with vocal allow the listener to experience almost physical emotions.Track 10 -162 -distinct and unique song.Female vocal of Danielle Lang,varying between Gothic and Opera,and impossible to describe electronic sound arouse genuine nostalgia about past and dark thoughts about future.Track 14 -EPIDEMIC CAUSE -again import,this time from Japan.i knew their previous metal releases,but now they approach industrial more and more closer,and don't want to get rid of bad habits ,like a foreground guitar.Track 17-PROVIZION-two elektro guru's,like TOMMY T(DSBP) and J.DANOS (UEF) have united.the most intresting combination of tense vocal ,and heavy drum and bass structures with constantly floating up melodic dance reefs! V.EDGAR-GAZE INTO GLOOM (april 1999)
Sideline #23
FUTRONIK STRUCTURES volume 1 (CD-DSBP) this sampler features a majority of American bands and several of these bands are based in Albuquerque,N.M where the headquarters of DSBP is still based.Except the American bands,the German synthie-crossover-pop BLIND PASSENGERS opens the fire with the powerful,"respect yourself". The Netherlands are represented by MIMIC MIND,which offer us here one of the best tracks on their debut album,but their dark elektro still sounds uninspired....The Brasilian BIOPSY certainly deliver one of the best tracks on this compilation and which could maybe remind the sound of the great SWAMP TERRORISTS.The 14 other bands are all Americans.A large part of them are dealing with the crossover approach.The most attractive one is according to me-AUDIO PARADOX and it was a big surprise to me,its one of the best unsigned bands on this album!The other bands let me quite sceptic.i'm talking here about :TUBALCAIN featuring the singer of SPAHN RANCH and EPIDEMIC CAUSE.Other bands like diVERJE,A NEW JANUARY and PIVOT CLOWJ are more evolved in rock-pop music.162 take care for a rather wave or gothic side,but i'm afraid without success,while THE MAN combines elektro and industrial influences in another quite deceiving result. Finally theres several elektro projects like CON.This band deals with a wondering mixture between distorted vocals ala DIVE with a rather elektro approach and quite whispering poppy vocals.CON is one of the revelations on FUTRONIK STRUCTURES 1.The cold electronic style is quite well represented by AURIFEX and CRYING ROOM,which are two other revelations on the cd.in-FUSED present another dark electronic composition,which is a bit comparable to our own VOMITO NEGRO.Finally BYTET and PROVIZION end this first volume with two other cold synthesizer tracks which are just alright! contact -DSBP,237 CAGUA NE,ALBUQUERQUE,N.M. 87108 (DERANGED PSYCHE -6 rating/ORA -Brandon F.-7 rating)
j.citizen - blatant propaganda web-zine
Overall, I was pleasantly surprised by the quality of the artists on this release and on the vol. 2 disk reviewed further below. In fact, I like these CDs a lot more than most of the flashier releases by bigger labels in the electro-industrial scene. Long live labels such as DSBP for supporting the underground and particularly new unsigned bands. This compilation was released in mid-1997 and features many new and unsigned electro-industrial artists. It begins with the Blind Passengers' track "Respect Yourself" which, with it's non-robotic dance beats, catchy vocals and flangey guitars reminds me of early 90s British electro-pop such as Jesus Jones, EMF and Pop Will Eat Itself. The next act, Con, have an 80s new-romantic influence in their sound for "down"; one of my favourites on this disk. It features contrasting subdued vocal verses into a loud chorus, techno beat and ethereal industrial synth noises. Reminds me a bit of Spahn Ranch. Mimic Mind present a straight down the line Western Europe electronic-body-music piece with deep android vocals. I really like the fuzzy feedback noises. Tubalcain's track "God on the Tongue" begins with some very annoying ranting dialogue samples that lead into a very groovey e.b.m. pop stomp with catchy hooks to boot (this band features the vocalist from Spahn Ranch). Biopsy's "Never Inhale" is a fast chugging guitar-driven stomp with breakbeats and gruff rah-rah vocals. Reminiscent of Klute and the FLA remixes of Fear Factory. "Bleed", by A New January, is a slower romantic new-wave electro-pop song - reminds me of Depeche Mode. Some interesting structural breakdown bits. Pivot Clowj present "Blackout" which is another track I really like. It has a straight forward slow techno beat, weary vocals, plonking bass-synth and dreamy synths. I love the way the vocals and synths soar off into the stratosphere mid-song. One almost feels like one is flying through blue skies over a desert somewhere! Well, almost! Diverje's track "Body Worship" has become stuck in my head. Those naughty people. An e.b.m piece with chugging guitars and enchanting middle-eastern type keyboard lines. It reminds me of classic e.b.m acts such as A Split Second and Click Click. It's good to hear the effective incorporation of guitars in this style. I don't think I've heard a guiro sound used in e.b.m. before! Now that's pretty brave. Aurifex present a classic e.b.m piece with deep pitch-shifted android vocals. I like the breathing space used at the end of the track with the solo cloudy synth sequence. 162's track "Darkness" begins with a sound I've heard a billion times (hey, the Korg M1 was my first synth!) Even so, despite a few other sounds that I know better than the back of my hand, this piece is characterised by operatic-gothic female vocals which interplay very effectively with the high keyboard lines. Quite a delightful dreamy piece! The Man is a very Depeche Modish act - particularly the vocals, though I should add they get a bit more emotional than I've ever heard DM get. Though I never could tolerate Depeche Mode's sound, The Man do this style well on "Captivity" and get my tick of approval through the interesting squealing samples and willingness to get at least a little bit carried away vocally. Crying Room's instrumental "Her Overcoat" is a well constructed piece. Though it's probably not exactly cutting edge to do a dark-electro instrumental with samples from horror films. Unfortunately, such things just don't hold my attention anymore. Audio Paradox's "Her Overcoat" is more of a contemporary elektro-gothic-rock crossover piece. At places it reminds of Skinny Puppy's last album - the guitarish tracks. Cheeky use of typewriters in this piece. Epidemic Cause and their track "Anniversary of Mental Derangment" stand out by virtue of their funk-metal-influenced style with vocals ranging from strangulated croons to cookie monster gruffness. While they do this genre very well, I never could tolerate American doom-metal stuff. Far from sounding scary or profound, such music sounds to me like a bunch of parent-frightened teenagers trying in vain to puff themselves up like a defensive spider to look bigger. in-Fused's track "No Trust" is quite similar to that by diverje. That's no surprise really, they both contain Tommy T. I don't really know why they are separate projects, the only difference I can find is that diverje features guitars. They both share a similar dark-electro sound and Mr. T's characteristic alien vocals. Bytet's "Anything (97 mix)" features lyrics that anywhere else I think I'd find completely annoying. However, the way they are sung by the female vocalist and their quirky electronics makes it one of my favourite tracks here. Quite a unique and refreshing sound. The closest comparison I can think of is Laurie Anderson. The CD closes with "Connect" by Provizion - a collaboration between Tommy T and Jeff Danos of Testube. But hang on, didn't they also have a project called "Wrack Process"? This is just getting silly all these different names! Anyway, what of the music? This is a stomping quirky e.b.m piece that's also heavily influenced by the mid-to-late-80s hey-day of European e.b.m.
James Cooney, Base Asylum
Futronik Structures is a new compilation series from DSBP. Sort of a follow up to their previous release "Industro Synthesis". Musically it is just as strong as IS but I must comment on the vast improvement in presentation, the artwork looks fantastic, as is the case with their latest disc, Futronik Structures covers the whole audio spectrum known as indfustrial, this time offering a mix of known and unknown acts. Import acts such as Mimc MInd, Blind Passengers, and Biopsy. As well as smaller american groups like Aurifex, Con, diVERJE, and Tubalcain, an old project of Athan of Spahn Ranch. Standout tracks include the phase club mix of Blind Passengers "Respect Yourself" as well as Mimic Mind's "Lies For Answers", Biopsy's "Never Inhale" from the now out of print Nervate, and Aurifex "Human Geography". Recommended!
Mimicry Distribution Catalog
As with all young and highly self-critical labels, DSBP and its label guru, Tommy T, are trying to increase the awareness of the next wave of inventive and soon-to-be-very-popular elektro cyber artists. With Futronik Structures, DSBP showcase the horde of up-and-coming US, Brazilian and European artists that cover the entire umbrella of electronic music from the synthpop industrial of Germany's Blind Passengers, to the sequensed EBM of Mimic Mind and Con, to the EBM-Elektro-Rap of Biopsy, to the elektro-goth of A New January's Bleed, to the industrial cross-over of Tubalcain. Each song is unique in its own right revealing the variety and fruitful scenes burgeoning throughout the globe and primarily in the United States. DSBP is a label to watch, just for its lust for diversity and the desire to release music of amazing originality and creativity! As this is being written, Futronik Structures Vol. 2 is in the works.
Chris Christian, Sonic Boom
"Futronik Structures" is the newest compilation of independent Industrial artists brought to you by New Mexico's Decomposed Skunk Bud Productions. The label's owner Tommy T has definitely learned a few things since the release of his last compilation "Industro Synthesis" and it shows. The artwork and production quality of this release are light years above previous releases. This definitely helps give the final package a very eye catching appeal that will help attract prospective purchasers. A handful of bands that appeared on "Industro Synthesis" have tracks on this compilation as well as bands who have appeared other several Arts Industria compilations. There are even a few sings bands like Mimic Mind, Tubalcain, and Biopsy who contribute tracks as well. Overall "Futronik Structures" is a very solid collection of Electro-Industrial from all over the world. Acquiring this compilation is an excellent way to hear new bands that might just be the latest buzz in the scene in just a few years.
DJ Antithesis, Storming The Base Of the Alien Foe, Canada
Right from the start I'm loving it as the Blind Passengers song Respect Yourself reminds me of Some More Crime's "Der Tod Ist Ein Meister Aus Deutschland". Regardless of the similarity and the use of the guitar and the beat, this is a good industrial synth pop song. Catchy melodies and a good striking chorus where the guitar is used well to hit it hard. Con's "Down" might have struck me more if I hadn't have owned the album for so long. I still like the use of sounds and vocals, how they wash over the rest of the music. They could hve picked a better Mimic mind song to go on here, as "Lies for Answers" is not the strongest song from their album. Pivot Clowj, hmm, funny how my favorite songs are the synthpop ones on compilatinos. But I have always like Pivot Clow j sinceI first heard them. their song Blackout is good simply built electronic pop song with mildly distorted breathy male vocals, it kicks a little bit but still remains a light song. 162 adds female vocals to the compilation with darkness which sounds like a christmas hymn . I wish we had a 162 song as a christmas jingle. A well put together songs thats driven by here voice but the music is driven underneath and percussion prevails, with the occasional synth forcing its way out of the beat. Diverje is much better now from the "electrodiums / passaage" album, with the production being much kinder to the music. "Body Worship" rocks! How bitter am I about Tubalcain stealing my samples from Barton Fink and totally misusing them for no reason whatsoever but to introduce their track? Fairly.
Aaron Johnston, Alternative Press #115 Feb 98
Tape hiss, bad acting, derivative sounds and poor production are staples of the bedroom recording industry. Despite the inexperience and innocence that its artists project, Futronik Structures delivers a clutch of uncut diamonds whose rough edges only make them glimmer in new and distinct ways. Artists such as Aurifex, Crying Room, Tubalcain, Mimic Mind, and 162 may be far from capturing the attention of their would-be electro and EBM heroes (Front 2242, Skinny Puppy, et all), but exposure like this won't hurt their pending ascent.
Octavia, Outburn 1/98
How do you find out about the many new underground elektronic musicians out there? Through compilations like this! The biggest name on this comp is the harsh guitar electronics of the Brazilian Biopsy, but there are many other intersting bands on this compilation, like Mimic Mind, who have a CD out on Broken Seal in Germany, Tubalcain which features the vocals of Spahn Ranch's Athan, A New January new wave influenced with electronics, Diverje who have an interesting mix of sounds, synths, & guitars, 162 with their dark atmospheric landscapes, Epidemic Cause who add a bit of a metal edge to their sounds. There's even a song on here by The Man. Also on the compilation are Blind Passengers, Con, Pivot Clowj, Aurifex, Crying Room, Audio Paradox, in-FUSED, Bytet, and Provizion. This compilation will provide an effective introduction to many electronic bands with future full length potential.
Damn! magazine, 2/98
A compilation of assorted underground elektro bands, international in scope... From industrial to elektro pop to soundscapes. Despite all the seeming variety the disc tends too much towards lofi tempo stuff that tries to be synthpop, untreated vox abound. High points are Biopsy (take on Swamp terrorists) and the awkward gothic lilt of Wisconsin's 162, the stunning psychosape from Crying room, and decent efforts from Diverje, Bytet, and Audio Paradox.
THE INDUSTRIAL BIBLE, monthly electro industrial webzine, http://www.bitstorm.net/dachar/ibmain.htm
Once in a while a compilation comes along that is actually worth its weight. Futronik Structures is one of them. This 17 track sampler has quite a lot to offer to those who follow the scene closely and even more to offer for those who are electro 'dabblers.' Futronik Structures begins with the best possible mix Blind Passengers' Respect Yourself. The Phase Club Mix, taken from Blind Passengers' Respect Yourself CD single has all the proper makings for a hard edged electro club track; rough guitar riffs, catchy lyrics, a fantastic rhythm line, and an array of finely programmed electronic sequences. The next track, Down, by Con combines a simple techno beat with a noisy rhythm line and untreated vocals. This track wavers somewhere between rough techno and harsh experimental industrial. Mimic Mind are a band who have based their music around a non-complicated structure in which the evil, semi-gothic delivered vocals drive the songs as much as the music. This is apparent on their contribution, Lies For Answers. 5 years old, yet still maintaining its aggressiveness, Tubalcain's God on the Tongue is a harsh electro piece with throttling guitars, a dominant beat, and bellowing vocals (sung by none other than Athan of Spahn Ranch.) Aghast View's evil twin, Biopsy, show one of their many musical faces on Never Inhale, a metallic break-beat track that will grab you by the throat and refuse to let go. Listening to this track repeatedly has been know to cause brain hemorrhaging in laboratory rats. Simply amazing! Things slow down considerably with A New January's Bleed, a mellow track with echoing guitars and a bizarre, unexpected break midway through. Rhythmically, things begin to increase with Blackout, by Pivot Clowj. While this is somewhat of a simplistic piece, it still manages to hold my interest and actually become a bit addicting after a few listens. Body Worship by diverje is a standard American electro piece, but manages to add a bit of diversity by utilizing some orchestral elements. Aurifex's Human Geography reminds me of the music that came out of Europe (specifically Belgium) in the early to mid 80's. It's good to see that there are still bands around who respect the music of days gone by and emulate these same qualities in their own compositions. After 9 tracks of male fronted bands, I was surprised when the goth natured female vocals bellowed out of my speakers on Darkness by 162. This piece is very reliant on the vocals. While the music is rather simplistic, the sounds are diverse and the vocals are amazing. Captivity by The Man is an eerie synth-pop structured track with a pulsating rhythm line, rumbling beats, and slowly rising sequences. Crying Room present an instrumental track, Her Overcoat, which features ghostly sequences, a wet rhythm line, fierce beats, and creepy samples. Parasitic is a perfect title for the next track by Audio Paradox. Aquatic sequences mixed with a rhythm on speed and untreated vocals make this track slowly work its way into your brain. Leaning more towards death metal than electro, Anniversary of Mental Derangement by Epidemic Cause is a piece that is a bit too rough and unstructured for my taste. Follow that with the dated sounding No Trust by in-FUSED and I'm totally con-FUSED. I had heard some of their material in the past and I thought it was much better than this. No Trust is a tad repetitive and contains a rather annoying, clanky backing sequence. Updating it for the kids, Geiger returns with his project, Bytet, and a brand new version of Anything. Raw electronics meshed with echoing female vocals make this track very relaxing to listen to. (Try this one through a good set of headphones!) Wrapping up Futronik Structures is Connect by Provision. Connect begins with an array of odd sounds before the wiry rhythm kicks in, along with the militaristic beat. The twisted vocals come out of the darkness during the chorus and actually become catchy. Connect has several good things going for it. While I was only familiar with about 1/4 of the tracks on this compilation, I was pleasantly surprised with most of the rest. Futronik Structures is a high diverse compilation that will introduce you to some of the many sides of electro music.