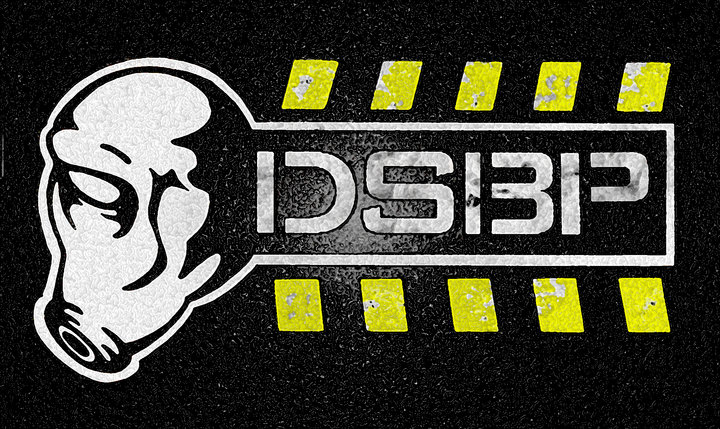 DSBP RECORDS specializes in ELECTRONIC, INDUSTRIAL, POWER NOISE, EXPERIMENTAL, EBM, IDM, COLDWAVE, SYNTHPOP MUSIC! spanning 20 + years in the UNDERGROUND INDUSTRIAL SCENE
Miscellaneous Accessories
Titles In Stock:
the following t-shirts and accessories are now available through DSBP
-----------------------------------------------------------------------
ANDRACULOID -'observations in human error' double sided print /black t-shirt $13.00
REIN-[FORCED] (the new project from members of "Forced") double sided print black t-shirt $13.00
---
Magazines:
CHAIN D.L.K. zine (italy import $5.00)
issue #5 now available! features interviews with ...allied vision,biopsy,corpus, love like blood,mental destruction,muslimgazue,sub magazine,testify,and bauhaus report..in addition to a synthpop report ...interviews with de/vision,synthphony records,masochist halo,and more
CHAIN DLK zine issue #4 jan.1998 (italy import $4)
this import zine covers alot of ground including the most reviews i've seen in awhile (over 200 and not any commercial crap either..underground only!!)...interviews with many upcomers and classics like -psychic tv, -anti front,a different drum,panasonic,audiofile tapes,hocico,gerstein,negativeland,templebeat,trylok,deviate ladies,K.L.F. M.A.C.O.S,and more.....get this.
INTERFACE version #10 ($3) ( we only have a couple left,,hurry)
the leader inthe USA for great interviews and indepth coverage of...alien sex fiend,Brute! (kmfdm artist),martin atkins,loop guru,.sister machine gun,tom bailey (thompson twins)deathline international,spahn ranch,anything box,sunshine blind ,and more..the great sections and the best editorials fromthe most prolificwriters inthe industrial genre.
INTERFACE version #11 ($3) (only a few left.)
great new issue with interviews of: clan of xymox,covenant,front line assembly,keoki,kevorkian death cycle,kmfdm,lords of acid,gary numan,and some commercial stars as well.8-).many great sections and views as usual fromthe strongest mag on the industrial market!!
Used/Sale CDs:



please look through this list and our DSBP CATALOG at 
to find all the killer new music we are releasing and distributing here!
thanks alot,please be in touch!
regards,
-TOMMY T--DSBP----


:       CD's FOR SALE!!!! all $5.00 each,first class shipping is included!
: --------------------------------------------------------------------
: - all cd's are in good to excellent condition!!
: priced to sell..if you wanna haggle..then e-mail me.thanks alot!
: *money orders/checks/well hidden cash accepted*
: 
   -CYBERAGE RADIO (industrial music of NOW!)
.   -DSBP label and mailorder (supplying you with the best!)
: 
(all prices include shipping!)
====================

: electronic-industrial-d'nb -misc.
: -------------------------------
: Aria - a tess records anthology
  Atari Teenage Riot - 60 second wipe out
  Alexi -the mystery
: Bent - the killing verdict
  Jeff Black -birmingham road
  Blackhouse -stairway to the gospel word($6.00-IMPORT)
  Blackhouse -shades of black  ($6.00)
: Bloody minded - trophy
  Call Me Daddy - kiss the freak
: Candiru - unloved tweaked out
  Canister - blame
  CFP -progress
  Christian Death -tales of innocence,a continued anthology ($6.00 ))
: Church of rust - s/t
  Colossal Spin- v2.1.7.
  Cyclefly - supergod ep ($4.00- 5 song ep)
: David E Williams- a house for the dead and a porch for the dying
  Daligaggers- just adnauseam
  Deliriants -the deliriants
  Diatribe -Diatribe 
  Die Krupps -Odyseey of the mind ($4.00 -full cd in promo cardboard
      sleeve)
: Die Symphony -foundations of malice
  diverje - electrodiums/the passage
  D.J Morning - hi
  Drown - product of a two faced world
: Dynamic masters - russian roulette
: Dystopia 1 - the buscemi tapes
  Ennui - ritual & dogma
: Epidemic cause - far east
  Falling You -mercy
  Feeder - polythene
  Filter - short bus
  Fingerpaint - Primary colors:blue
  Final Cut -atonement v2.0
: Fragmented -knowledge of war
: Fragmented -the structure of clear wine
: God - the anatomy of addiction
  Godless promise mechanism - toxic shock
  Gomez -bring it on
  Grassy Knoll - the grassy knoll
: Habitants - habitants
: Hanuman care kit - revisited
  Hillbilly Hellcats -our brand
  Lida Husik -dissolve ep ($4.00)
  Icecake -...an ambient experience
  If,Bwana -33birdswent
  Insects - return to the foreign legion
  Jami Szmadzinski - the angels of atman
  John Adorney -beckoning 
  Jocelyn Montgomery with david Lynch -lux vivens
  Andrew Kennedy -distant landscapes
: Kmfdm - kmfdm
  Kmfdm -Brute (special edition maxi ep)
  Krankheit Der Jugend -gift-sucht
: Krankheit Der Jugend - schnitt stellen
  Lackadaisy  -still
: Landfill - extinction is mondatory
: Laughing us - 362436 with a 10 foot stick
  Liquid Sex Decay - self titled
: Lumin - datura
  Madfly -white hot in the black
  Mediaeval Baebes -salva nos 
  Michaele Michaels- hon ($4.00 -5 track ep)
  Midnight Oil -redneck wonderland
  Ministry -selections from Dark Side of the Spoon($3.00- 3 track ep)
  Moonchild -third ($4.00 full import cd in promo cardboard sleeve)
  New Mind- forge
  Nihil - drown 
  Gary Numan -exile  ($4.00 new in wrap,in carboard sleeve)
: Opera multi steel - histories de france
  Pagan Saints - flesh and bone
: Patternclear - beat supremacy
  Peter Kater - birds of prey
  Pigface - below the belt
  Pharoah of Mars - self titled
  the Phoids - self titled
  Plaid -peel session 
  the Politics - songs about money,sex,and death
  the Prayer Cycle - self titled (Jonathan Elias)
  Project Pollen - self titled
  Prong - face value ep (4 remixes unreleased on album) ($3.00)
  redheadedstepchild -self titled
  Red Snapper - making bones
  Rebro - noone gets out of this trip alive
  Senser -stacked
  Splashdown -stars and garters
  Sepultura - roots (the cover is a little worn and torn,not too bad)
: Signs of chaos - frankenscience
: Simbolo - music from the masses
  Skrew - shadow of doubt
  16 Volt - super cool nothing
: Tchkung  -post world handbook
  Tinfed - hypersonic
  Tin Star - college ep ($3.00 ep cardboard sleeve)
: Triana - color of sound
  Umbra et Imago - machina mundi ($6.00 imported cd,new)
  Unit 187  - loaded
  Unkle -psycience fiction (4.00 lp in cardboard promo sleeve)
  Urchin - urchin 
: Vaughn -identity crisis
  Venus Fly Trap -dark amour
: Warheads - Warheads
  Winds Died Down- self titled
: Where echoes end - no vestige of beginning
: 
: COMPILATIONS

: -------------------
: v/a - cyberpuncture
  v/a - Africa North (world beat stuff,compilation)
  v/a - conversions (a k+d selection)
  v/a - discordia records-"taste this 2"
: v/a - dimensions in ambience 2
: v/a - journey into ambient groove 4
  v/a - judgement night sountrack
: v/a - industro-synthesis
: v/a - lost in space soundtrack
: v/a - mortal kombat soundtrack
: v/a - nuschool flava 
: v/a - raincreature
  v/a - slip this on and rock hard (slip disc sampler)
: v/a - songs fromthe wasteland - a tribute to the mission 
  v/a - music for art galleries: Verbal Equinox book ll
  Cold Still earth
: Eclipse - outer limits compilation
  Traces of death IV
: Welcome to Meteor city
: Dragon Attack ( a tribute to queen)
: 
: 
: 
: please inquire with any info you need on the bands and cd's listed here.we
: want to hook up music lovers with the cd's they need!!
: we'll go lower in some cases as well,if you are buying a  few cd's.so feel
: free to ask.......thanks!!
: the DSBP!!!



               FOR SALE!!! GREAT DEALS!! METAL,DEATH,HARDCORE,MISC.
	 hardcore/Death/ Metal CDs / Cassettes   For Sale
               all cd's in great condition,like new,special prices
            apply to some for promo sleeves,etc. updated 6-11-99
     _________________________________________________________________
                all CDs $5!!! (unless noted other)
   
            ====================================
---------------------------------
SHIPPING- 1 cd -$1 first class
         2-4 cd's $3.20 priority
         4-7 cd's $5.00 priority
  --------------Crossover/Metal
  
   Adjusting Distorted Individuals - Train of Thought  NJ hardcore
   with death/metal/pschydelic twists. Unique band with some catchy,
   moshing, moving songs.

   the Aluminum Group - Plano
 
   Biohazard- mata leao  -their 96 release,way more aggressive!

   Bolt Upright -e.p. ($4 -ep) new band with a mix of
    turntables,scratching,and rock and funk,metal joined.

   Both Worlds - Memory Rendered Visible 

   Candy Snatchers - self titled 
      hardcore punk,traditional and insane!!

   Cannibal Corpse - gallery of suicide -the latest!! of course,its
     brutal!!

   Captor - drowned -($4 promosleeve,but its a full 12 song album,new!) 
    thrashcore-metal with deeper vocals on the german
    Die hard label! kick ass band that should be big!! this album rocks!


   George Clinton and the P-funk all stars - dope dogs 


   Concentrated Evil - Concentrated Evil 

   Covenant - Highland
     this is thrash from La. not the band onthe nuclear blast label.

   Crushed - crushed    new hardcore band on the 911 label.kick ass.
   
   Crucifer -separation

   A Day for Honey - Day for Honey 
   
   Daligaggers -just adnauseam (new band! of Gidget gein of Marilyn
   manson..its that kind of style as well.) (all copies signed by band!)

   Darklands - a memory of you ($3 ep-import) doom gothic from sweden.

   Dementor - kill the thought on christ 
     new import from Slovakia,this band rips the fucking shit
     up,aggressive and sick as can be......on IMMORTAL SOULS REC.   


   Deteriorate -the senctuous entrance  -($4 carboard sleeve,full album)

   Detestation - Massacre of Hate  (DSBP#1001) 17 songs / 60
   minutes of unique death - grind core and Industro - Hardcore madness.
   Our biggest seller so far!
   

   diverje - Electrodiums / The Passage  (DSBP#1004) 18 songs, over
   60 minutes of electro industrial cyber metal. Electronics/guitars
   combine for a unique trip. Some songs are very hard edged, some blend
   melodically.
   
   
   Drogheda - self titled - their wild rags debut,intense grinding from
    this intense live and sick band out of ohio!


   Drudgery - Strength Beyond the Pain  -colorado death-thrash!

   Dying Breed- Dying breed- ($4 -3 trax cd)- great band from Ca.
   killing mix of death and thrash elements,sepultura fans of old,take
   note!

   Dysphoria - Hope Without Reason

   Epidemic Cause - Far East  3 tracks from this Japanese
   industrial-metal unit. Very cultural, yet heavy grinding as dwell, an
   import so buy it here now!sickness like you havent heard.

   Eternal Suffering - Remain Forever in Misery 

 
   Flambookey -flambookey  - cool new hardcore and rock style with a dash
    of funk,a healthy dose!
   

   Gomez -get myself arrested ($3 -ep in carboard casing) new
     indiepunk,rock.

   Gooseflesh -welcome to sufferage ($4-promo sleeve,Spain import)

   Gorguts - obscura    -their latest brutal offering...splendid!
  
   Headlock - it found me - hardcore on pavement label,out of print now!

   Humble Gods - no heroes -slamming music ,punks galore!
 
   Hypocrisy -pleasure of molestation ($4 - promo cardboard sleeve)

   Immortal Dominion - birth - underground colorado death!

  
   Immolation  -here in after   - the most recent from one of the most
       destructive bands on earth!sheer intensity!

   Incantation -the forsaken mourning of angelic anguish($4 promo sleeve
     full cd ) on repulse rec...fucking killer sickness!

   Incantation -onward to golgotha 
        their most brutal release..dark,grinding hatred!


   Intestine Baalism - anatomy of the beast ($4 promo sleeve import!) 
      new band from Japan.doing old school death-grind,similar to early
       Cannibal corpse

   Judecca - Scenes of an Obscure Death 
     brutal death rom this florida band,gory,sick and moshing....yes!

   Kid Rock -devil without a cause - joins rap and metal with an equal
     emphasis on both...cool shit

   Kilgore - Search for Reason  
   
   Konkhra -live eraser 1996 ($4 full live cd in carboard sleeve,import)
    top notch live album from this butal death band!    

   Korn - follow the leader 
  
   Landfill - Extinction is Mandatory  10 songs of unique
   industrial-death, each song being its own flavor, even an electro
   song. This is a band on therise in the crossover underground.

   Last Supper - Second Serving : Look Who's Invited

   Len - you can't stop the bumrush

   Melancholy Pessimism -recompense to saints 
    very gutteral and diverse,grind-death-core band from Czech republic
    on METAL AGE prod..slovakia...this is a find! 

   Midnight Oil - redneck wonderland

   Mindset - Mindset (FAD Records)  Great cross of hardcore metal,
   death, all into a uniquely tightly packed groove. 

   Molested -storm void (import ep-$5.00)
     5 intense tracks on the REPULSE label...death-grind

   Monster Voodoo Machine - direct reaction now 
   
   Nefarious - Global Warning- new death from canada!

   N.i.l.8- ...doug  -trialer park stop ngo dynomite!!now this is rockin'   

   Nuctemeron - A Time the World Forgot- underground from AZ...mixing
   death and doom and thrash riffs in a cool way!

   Oppressor - european oppression live as blood flows

   Oppressor - Agony  

   Orange 9mm- primer ($3 ep) -one new track and 2 live tracks

   OS101 - United Brotherhood of Scenesters
   
   Porn Flakes -The Number Of the Beef  -some fun,fuckoff, hardcore stuff!

   Portable  -self/titled - new hard alternative on tvt.

   Powerface - 4 on the floor ($4 promo sleeve,ep)

   Primigenium - .......as eternal as the night....($4 promo sleeve
   import) dark metal for sure.

   the Pushstars - after the party
   
   Puya - Live from Puerto rico! ($4 -4 song live ep) 

   Raw Power - reptile house - the new one fromthis long going
      band..punk-core!

   Reincarnation - seed of hate  (import ep-$5.00)
     more brutal death-grind from the Repulse label...this is vomitous!

   Reveille  -laced

   Ritual - The Summoning
          intense mix of blac metal and eath.great band from CA ! onthe
        rise!

   Sacrifice Isaac - migraine ($4) new hardcore/rock band
   
   16 volt - supercool nothing ($4 promo-cardboard- picture sleeve)

   Sarcophagus - Deadnoise - some of the most brutal black metal ever!

   Sarcophagus - for we who are comsumed by the darkness.....($4   
     full cd-  promo-carboard sleeve
   
   Sarepta - Sunk
      very influenced by sepultura style..from germany,.

   Satanic Industries ltd -  s/t - ex-guitarist of FIGHT kix major ass
    here! sepultura -ish!

   Scattered Remnants - inherent perversion ($4 ep)
   bashing sick stuff,intense screams and growls,underground
   death-grindcore at its best!they are now defunct,get this while you
    can!!

   Sexmob -din of inequity

   Shudder to Think -"first love,last rights" motion picture soundtrack

   Sickness - Ornaments of Mutilation  Total sick, perverted,
   brutal death-core. Straight to the point, makes you want to kill. A
   band on the rise!

   Sinister -diabolical summoning
     the debut masterpiece fromthis great death metal band!!

   Six-By Seven - the things we make  -new on interscope,hard hitting and
    melodic.

   Skinlab -disembody;the new flesh (promo sleeve full cd -$4.00)

   Snakefarm - songs from my funeral (new and unique hardcore-alternative
    band.)    
 
   Slayer -Divine intervention

   Slayer - Undisputed Attitude

   Society's burden - self titled ($3 promosleeve) core-metal

   Solitude Aeturnus- adagio ($3 promo cardboard sleeve,new album)

   Spackle - the luv album    

   Transilvia -slugchuckles insanely  - some weird-core!

   Travail - Translation ($4) Cool thrash/core with death laced in as
   well. Determined band doing it their way! 9 tracks to mosh to!

   Tripping Daisy - Jesus Hits like the Atomic Bomb

   Uncreation- self titled ep (import $5.00)
   
   Uncreation -death to humanity ($4.00 EP)
      its one of those really small Mcd5's wild rags put out!

   Unnatural - Throne of Anguish- sick ass spanish death metal!!inhuman
    vox ,music to crush you!

   Vader  -sothis
    great extended ep on Repulse records..completely intense!

   Victory Style III - the third compilation featuring all the bands onthe
   victory hardcore label.the best,meanest,brutal hardcore is on this
     album!

   Vindiction - Hang you Out to Die  -underground colorado sickness!!

   Wellwater Conspiracy - oprational directives ( new strange post punk)

   Wickerman - Wickerman 



   COMPILATIONS    ( $6 each cd,plus shipping)
     -------------------------------------------------

   V/A - Cold Still Earth-Frozen dawn records compilation,sick ass
   underground death from....Shredded Corpse,Regurgitation,Inhuman,
   Skinless,Deaden,and Umbilical Strangulation..this is underground!

   V/A _ Orchestrated Chaos _ fromthe soulside label,kick ass and diverse
   death/grind and black  metal underground...
    .Abazagorath,dysphoria,Angelkill,
  Immortal Destruction,Malicious Intent,Exhumed,dismembered Fetus, 
  Inthroned,Manias,Unearth,fatality and many more..intense grinding!  

   V/A - Outer Limits  Featuring thrash metal and hardcore bands
   Dying Breed, Disarray, Habeus Corpus, Deus X Machina, many more!

   V/A -Spectrum ALe - ($4 promo cd sleeve cased,)
     loads of relapse bands!!

   V/A - The Storm has Begun -($4 promo sleeve)full compilation of killer
    metal and death bands from  MALTA...Beheaded,Masada,Orbus
     Vitae,Amentia   


   V/A - Welcome to Meteor City   - rock and hard rock ,psychedlice bands
  like...Demoncleaner,Lowrider,celestial season, Natas,Goatsnake,rotors to
  rust, the atmic Bitch wax,,and more cool underground rockers!