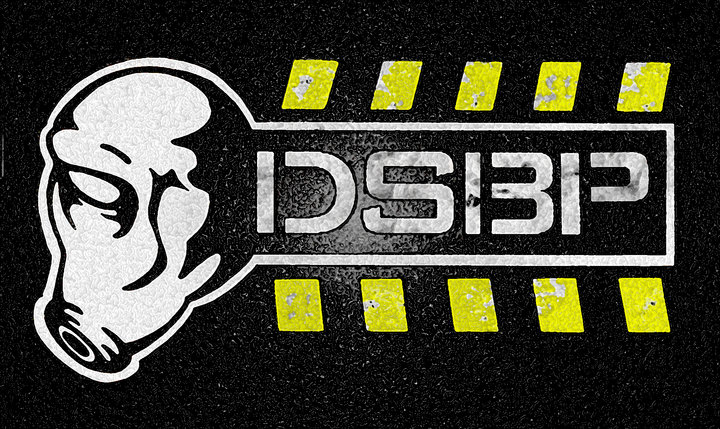 DSBP RECORDS specializes in ELECTRONIC, INDUSTRIAL, POWER NOISE, EXPERIMENTAL, EBM, IDM, COLDWAVE, SYNTHPOP MUSIC! spanning 20 + years in the UNDERGROUND INDUSTRIAL SCENE
System Der Dinge
This Swiss duo has been desribed as a good mix of bands like Haujobb, Aghast View, Evils Toy, LeŠther Strip, Abscess and others.

Personally, when I began listening to the first track on Fear Forms Function called "Quiet Sun" I was instantly reminded of some of Front Line Assembly's earlier dark cyber-tech. By the time the second track "Scanners" was playing it was much like X-Marks The Pedwalk yet the whole while it was a fluent blend of the two sounds with something wholely new and fresh!

I hate using other bands as examples of a sound especially since SdD is not so easily pigeonholed into such easy catagories. Their music varies much from track to track yet remains fluent throughout. All the while on a deep, dark, electro-cyber, industrial trip.

I must believe that System der Dinge is a DSBP prize possession! I expect their name will become commonly known among Cyber-EBM-Industrial music fans as their music can easily stand alone and hold it's own with the bigger names of the genre.

The band claims that the songs worked out for this album worked better with English lyrics, so look forward to more of their music in German in the future!

MP3s
Quiet Sun
Scanner
Dreams
Mindfire


ARTIST: System Der Dinge
TITLE: Fear Forms Function
CATALOG#: DSBP#1025
[electrogarden.com]
After hearing the few tracks on mp3.com, I was excited to finally throw this CD in my player. What do I think of it? I think it's great! This is definitely one of the best bands on DSBP Records, sitting nicely alongside label mates Testube and Biopsy.

System Der Dinge pull references from past electro bands like Skinny Puppy and X-Marks the Pedwalk, but accelerate them with a fast paced electronic assault. All the elements that make a good electro album are present, sweeping synth melodies, drum beats, well placed vocal samples and distorted vox. It's definitely nothing new or breathtaking, it's just really outstanding electronic body music.

One of my favorite tracks on the CD is "Dreams." "Dreams" has me up and dancing every time! It's surprising that I haven't heard "Dreams" being played at clubs! When will club DJ's wake up and realize we want to hear NEW music, not "Dig It" for the one billionth time.

I think one of the reason I love this CD so much is that it reminds me of older X-Marks the Pedwalk. "The Killing has Begun" comes to mind when listening to "Fear Forms Function."

"Fear Forms Function" has it all. Hyper speed dance floor stompers, slower, more subdued tracks and even a track that incorporates female vocals quite nicely. This is perfect electro dance music for people that like dancey electronic music with an evil edge.

--GunHed, Wetworks zine http://wetworks.cjb.net/
---


SYSTEM DER DINGE -"fear forms Function" >> DSBP
MUTE! Printed Magazine April 2000 review by [GB]

Smooth melodic EBM in the vein of Imperative Reaction
and early Evil's Toy.System der Dinge's debut album is a
powerful weapon for underground label,DSBP's fight for the
electronic forefront."fear forms Function" blends smooth synth
patterns with whispery vocals for an almost tranquil dance
atmosphere.Highlighted with more upbeat tracks like :"mindfire"
and "les nuits secret",System der Dinge stands strong in the
electronic war!


---


Along with Ionic Vision, Tommy T brings another European act under his DSBP
label. System der Dinge, a trio from Switzerland, is far away being unknown to
the scene with many great contributions to diverse compilations. Their first
release holds the quality of their past appearances. Fear Forms Function is a
powerful and modern electro album in the vein of early Evil's Toy and Haujobb,
or more recently Imperative Reaction; ready to set the dancefloors on fire.

    System der Dinge is delivering polish tracks with a precise structure all
enveloped by thick beats, pounding rhythm, humming synth work and harsh,
whispery vocals. For sure, Fear Forms Function doesn't offer something really
new; but the quality of the music found on it is enough to convince the most
septic listener. The modern, techno flourishes sound of System der Dinge is
adding much more character to the EBM genre; Scanner moves with atmospheric
synth lines, thick electronics and a soft, upbeat rhythm where the slightly
computerize vocals adheres perfectly to the modern sound. Mindfire is taking
the elements of the aforementioned track and brings them into a more
aggressive and danceable approach with harsh, energetic vocals; very nice.

    The act is leaving the loud, pounding formula that comprised the majority
of Fear Forms Function and brings a softer and beautiful gloomy song with Les
Nuits Secret. Here, the trio is expertly playing with IDM and electro with
complex synth lines and beat programming where the guest diva vocalist Chandra
Brandenberger is providing gorgeous vocals and French lyrics.

     Fear Forms Function is maybe not expanding the limit of the genre or
changing it, but is offering a great collection of modern EBM/electro tracks
with brilliance. With this solid debut under their belt, the success of System
der Dinge is certain and it will surely bring them under the light of clubs.
--Final Man @ Electroage : http://electroage.lowlife.com/

---


Dachar - INDUSTRIAL BIBLE
SDD - Fear Forms Function

It's about damned time someone got some brains and released a CD by System 
Der Dinge.  SDD have been kicking around pieces on several compilations over 
the years and each and every track was addicting as all hell.  Fear Forms 
Function is a kick-back to the days of early Haujobb, meshed with modern 
IDM, synth-pop, and dance floor friendly electro.  Quiet Sun is a laid back, 
trippy electro piece with quivering electronics, squeaky synths, an echoing 
beat, agile vocals, and a rumbling rhythm.  Scanner, my own personal fav, is 
crisp and nimble little piece with thick sequences, a machine-like rhythm, 
untreated vocals, a smattering of samples, and a mild beat.  If you like X 
Marks the Pedwalk's later material, you'll definitely love this piece.  
Dreams follows a similar musical pattern but adds in harder beats and some 
electronic elements that are a bit more dense.  Mindfire is a jumpy electro 
piece that was designed for dancing.  This time around, SDD opt to use more 
angst delivered vocals against a backdrop of jumpy electronics and a 
pulsating rhythm.  Very addicting, Dreamer Without a Cause sports many 
synth-pop styled components such as brittle vocals, calming beats, and 
carefree electronic sequences and rhythms.  Chandra Brandenderger supplies 
the ethereal female vocals on Les Nuits Secret.  This piece is a darkwavish 
tune with EBM elements found I the solid beat programming and bubbly rhythm. 
  Insight is a straight-forward EBM track with a pounding rhythm, twisted 
vocals, and scratchy electronics.  Finally, the instrumental piece Lost 
completes Fear Forms Function with a calming, semi-experimental intro that 
gradually warps into an interesting mesh of IDM and electro.  In all 
actuality, this piece would have been best used had it been placed as the 
first track.  Tommy T and DSBP do it again by providing the US with a 
gripping CD, filled to the brim (70:49 minutes) with great electronic music.


---


    System Der Singe is a (presumably) new Swiss dark elektro project. I
had never heard of this project or its members until it was announced
that DSBP had signed them. Their overall sound can best be summed up as
midtempo, dark elektro. Fortunately for the listeners and the band, they
avoid the current popular elektro sound (a la VNV Nation, Covenant,
Apoptygma Berzerk, etc.) In a positive way, the group brings together
modern elektro with the tried-and-tested structures and ideas created by
acts like Puppy, FLA,242, etc. while not blatantly trying to become
either of those bands. If you've been listening to elektro for a long
time, this probably isn't the album for you. This isn't a new,
innovative sound thats going to re-create our ideas of elektro music.
It's also not the greatest album ever written. It IS damn good elektro
though, and deserves more exposure in that scene.
    After browsing through other reviews of this album, I feel the
X-Marks the Pedwalk comparison is right on the dot (although this group
has a more dark feel than the recent X-Marks output). I'd also (for some
reason) compare this group to the recent output of Das Ich. The vocals
are done very interesting; each track seems to differentiate in the
vocal department, creating a good variety and not becoming tedious.There
is also a guest female vocalist which makes a nice balance; operatic
style singing, not sure of the language she sings in...  (Funker Vogt
should ask these guys for some vocal tips)... The faster elektro tracks
on the album seem pretty standard, but I feel the band succeeds in
tracks like "Void"; a dark, midtempo track; reminds me of Das Ich, but
the vocals on this track are very well executed and fit the music very
well.
    All-in-all, I like this album. Although my musical tastes have
greatly changed, I think this album is great for anyone in to the more
dark side of elektro. And with a total play time of 70 minutes 49
seconds, it is lengthy enough to be worth the cost. (On a side note:
Whats with all these short albums in the scene lately? Everything I've
bought recently has been between 45-55 minutes long. One advantage to
psy trance: you almost always get very lengthy releases).Looking at
recent playlists, it seems like this band is slowly making its mark.  My
final verdict: Its the best thing I've heard from DSBP, and it can
compete with anything coming out from similar labels / acts out there
now. Not required listening, but you just might regret skipping on this
one.

--Mike Berry


---


SUBJECT: SYSTEM DER DINGE
ALBUM: "fear Forms Function"
LABEL: DSBP
RELEASE DATE:NOVEMBER 17th,1999

hello there elektro friends,

the new SYSTEM DER DINGE cd-"fear forms function" is out now!! on DSBP!!
only $12.00 for this gemm of elektro-darkness and beauty!

 This album features 12 solid,catchy,and distinct tracks,
Dark -elektro,dance ebm and aggressive  yet with good melody and
some nice diversity,pure elektro with very rare guitar effects and
samples.this band is powerful with the elektronic and brilliant sequencing
and dark ghostly vocals with some real catchy qualities as well,they can
be described as a good mixture of Haujobb,Front Line Assembly,
Aghast View,X-Marks the Pedwalk,Evils Toy,Leather Strip,Abscess,
and some of the better Celtic Circle Productions bands as well.
  A compelling mixture of faster paced ebm dance floor tracks,and a few
mid tempo catchy elektro flavorings,and also a couple of slower moving
creepy elektro tracks which will also haunt the dance floors in the late
hours...features a guest appearance by operatic elektro female vocalist
-Chandra(switzerland),on "les nuits secrets" with french text.

check for Mp3's and samples at - www.dsbp.cx
thanks for supporting the underground at DSBP!


------TOMMY T-DSBP-_______-________-----_____

---


SYSTEM DER DINGE - "FEAR FORMS FUNCTION" (DSBP)
A NICE NEW ADDITION TO THE DSBP FAMILY! WE ALWAYS NEED SOME
NEW DARK ELECTRO BANDS TO COUNTERACT ALL THE NEW POP
STUFF COMING OUT RIGHT? SYSTEM DER DINGE I BELIEVE AT ONE
POINT WAS TO BE ON CELTIC CIRCLE/KHAZ A DUM? I REMEMBER
FIRST HEARING THEM ON THE CELTIC CIRCLE 2 CD SAMPLER.
ALL THAT ASIDE THIS IS A HIGHLY UNDERRATED ALBUM.
NICE DARK SYNTHS AND SOUNDS WITH THE OLD SCHOOL EBM DRUMS
GIVE THIS BANDS A DEFINITE FLAVOR OF THE OLD CELTIC CIRCLE
BANDS AND WILL NOT DISAPPOINT FANS OF THE DARK INDUSTRIAL.
CLUB DJ'S SHOULD NOT SHY AWAY FROM THIS DISC BECAUSE OF
THE LENGTH OF THE SONGS, TRACKS LIKE "QUIET SUN","DREAMS"
AND ESPECIALLY "SCANNER HAVE MUCH DANCEFLOOR POTENTIAL.
THE VOCALS ARE FAIRLY ACCESSIBLE TURNING A LITTLE MORE
AGGRO AT TIMES, BUT NEVER THE LESS ALWAYS A PERFECT MATCH
WITH THE MUSIC. I HIGHLY ENCOURAGE ALL DARK MUSIC FANS
TO GET THIS DISC, AS IT TENDS TO GROW ON ME MORE AND MORE
I LISTEN TO IT AND I THINK IT WILL ON YOU TOO!
 --kaiju


Reviews:


This collection of songs from Swiss group System Der Dinge reminds me
fairly profoundly of what the music of a crack-child of Sevren Ni-Arb
(of X Marks the Pedwalk) and Bill Leeb (of Frontline Assembly) would be
like.  I see influences from all portions of the X Marks discography,
including one Drawback-esque song called Les Nuits Secret, which is by
far one of the best tracks on the disc.  The operatic female vocals on
this track are a nice change from the otherwise growly and highly
cliched El Leebo Distorto Majoro.  The EBM flavor-of-the-year is
apparant on the disc, but even myself, who is somewhat bored with "that
sound," can find things to appreciate in this disc.  Impeccible
programming on tracks like Scanner, Quiet Sun, Insight, and Void has
lead me to believe that System Der Dinge is indeed not a one-trick
electro act.  System Der Dinge is also not afraid to make long songs,
something I often long for amidst this style of music.  Scanner and Les
Nuits Secret both put forth over 7 minutes of beats.  All in all, aside
from the normal minute production flaws I often find with DSBP releases,
I can find little to fault with this disc.  Its nothing profoundly new,
but its certainly a step in the right direction.  Recommended for fans
of Die Form (circa Savage Logic), Frontline Assembly, Haujobb (circa
Homes and Gardens), and X Marks the Pedwalk.
  - Kristoph Bbbl for IN_FACTION MAGAZINE upcoming issue.

---

Strangely enough, this is the first full-length cd for this Swiss band that
released its first tape back in 1992. And even more strange is the fact that
it got signed by DSBP - the label that is known for its excellent and overly
aggressive promotion and a line of quite average releases.

        Listening to this album the first time it reminded me of Abscess or
old XMTP, a good thing, right? Actually, the programming is good as are the
vocals as well, so what's the problem you ask? Well, the album seems to be
.uninspired. All the ingredients are in the cake, but someone forgot to add
the yeast. The problem isn't that the band doesn't have talent, it feels like
they're just going through the motions here. The music lacks any sort of depth
or emotion. It's almost like a routine that they've perfected so well that
they forgot why they're into this. I really feel if these guys ever find their
Muse, they may be a force to be reckoned with in the electro genre. I guess
we'll have to wait and see.
    --"seven" e-zine