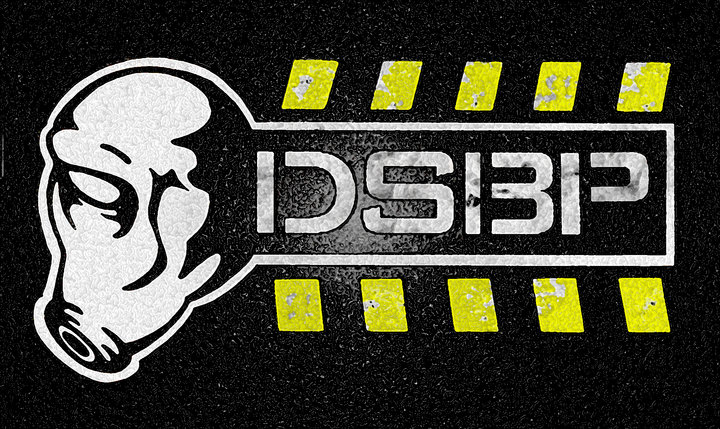 DSBP RECORDS specializes in ELECTRONIC, INDUSTRIAL, POWER NOISE, EXPERIMENTAL, EBM, IDM, COLDWAVE, SYNTHPOP MUSIC! spanning 20 + years in the UNDERGROUND INDUSTRIAL SCENE
Futronik Structures vol.4
The DSBP "electro-industrial" compilation series has reached vol. 4! This new comp. includes all new and exclusive, and remixed tracks from... E.S.R., ODIO VITA, UV, RUN LEVEL ZERO, CROC SHOP, SYSTEM SYN (IMPERATIVE REACTION remix), SEVERE ILLUSION,TYPE001,ANDRACULOID,GLIS(DIGITAL FACTORremix), LIQUEFACTION, DIVERJE (CLARENCE BODDICKER remix),IWR, FREQUENCY CONSTRUCT, RE-AGENT, and NEIKKA RPM! a definate must have for all club d.j's and radio d.j's are gonna go nuts for this one too! all fans of electro-industrial music must check out one of the few real solid compilations of the year!! happy holidays from DSBP!!

1 - E.S.R. -"ultra violence" (urban war)
2 - ODIO VITA - "mortality"
3 - UV -"everything is a lie"
4 - RUN LEVEL ZERO -"headless"
5 - CROC SHOP -"nu precedence"
6 - SYSTEM SYN -"momentary absolution" (IMPERATIVE REACTION remix)
7 - SEVERE ILLUSION -"bad people"
8 - TYPE001 -"project 8"
9 - ANDRACULOID -"zodiac" (phase 1 mix)
10- GLIS -"discontent" (DIGITAL FACTOR remix)
11- LIQUEFACTION -"lifeless"
12- DIVERJE -"companion" (CLARENCE BODDICKER remix)
13- IWR -"access denied"
14- FREQUENCY CONSTRUCT -"the fallout"
15- RE-AGENT -"heaven's falling"
16- NEIKKA RPM -"surrender"(scorpion)

(c) 2003 DSBP and the individual artists.....be back soon....

MP3s
IWR - "Access Denied"
Run Level Zero - "Headless"
Croc Shop - "Nu Precedence"
Type001 - "Project 8"
Frequency Construct - Fallout


ARTIST: VARIOUS
ALBUM :FUTRONIK STRUCTURES vol.4
CATALOG #: DSBP#1054
RELEASE DATE: DECEMBER 5th, 2003
TOTAL RUNNING TIME: 74:48
Reviews
reviewed by Marc Tater (itater@aol.com) (Germany)
We can notice with every new compilation presented by DSBP the more and better quality in the choice of the featured bands and also their music. Also to choose almost unreleased and hard to get material is the next point to follow all comps of this label. I can write this result here just before starting the in-depth review, just because "Futronik Structures Vol. 4" makes no difference. If you are into any kind of Electro/Industrial, EBM, Aggrepo, Dark-Techno or whatsoever, YOU MUST HAVE THIS ONE!!! Let's start the review and you'll see why you have order this piece asap:
1. E.S.R. - Ultra-Violence Why not to start with a hard-hitting EBM track at first. YES, here we go now and this french madman Vincent Pujol gives us again an excellent piece which you can find in its original version on his last full-length CD "Corroded Fragments". On this remix we can find several more added samples of guns, shoots and screams combined with some more menacing drum and bass line programmings. A more violent remix of an originally violent track which will blow you away! Great stuff!
2. ODIO VITA - Mortality This name is new to me, I haven't heard from them before. The beats are stomping from the very first second on, added then excellent rotating bass lines and a monsterous voice of a male singer well balanced in the mix. Nice church-like voices are singing the title - yeah what a strong effort! Lets follow this band without hesitation!
3. UV - Everything is a Lie Comes then one of the highlights of this compilation, a band called UV. Also this one is new to me, but I'm sure they won't leave you unimpressed. The programmings offer great Dark-Electro anthems and the vocals do remind me a bit to the old stuff done by INFORMÄTIK. Did I hear some guitars? Well, they fit great in here. But the best effort here are the melodic parts dragged into the chorus. Strong musically content, check this band out!!!
4. RUN LEVEL ZERO - Headless Comes then a well-known name, RUN LEVEL ZERO from Sweden. "Headless" is a pre-recorded track from thier upcoming new CD "Walk the Psychopath" on which we are waiting for like some curious children. This track is not that hard danceable EBM stomper, but after 4 listenings you'll love this piece with it's gloomy sequences. Surely their best track after their debut "Symbol of Submission".
5. CROC SHOP - Nu Precedence They are surely the most well-known act on this compilation, they are recording for the big Metropolis-Records - but hey! - that doesn't mean that they also offer the best piece here. CROC SHOP did change so much and often their style of music ranging from Industrial, EBM, Electro to more Tekkno or D'n'B attitudes. Some good vocoded vocals were added in the refrain. But in all this is a bit boring I fear...
6. SYSTEM SYN - Momentary Absolution (IMPERATIVE REACTION Remix) I know them through several good remix works for SYMBIONT or AGHAST VIEW and just now they have signed a contract at Sector 9 Studios. This track is an excellent dance piece, none of the too much future pop infuenced pieces. Strong vocal work we can hear here - one time with effects in the verses - one time clear for the refrain. Great instrumentations made it interesting, what a well-done remix work by IMPERATIVE REACTION. Check this out.
7. SEVERE ILLUSION - Bad People Sweden's newcomer offer us here some analogue sequences, monotonous vocals, a simple melody and a few static noises. Simple, really simple done - but effective. A track which ewokes a more experimental feeling, but it proves that SEVERE ILLUSION are trying to create something new that was never heard before. Keep on your work, guys!
8. TYPE001 - Project 8 This is a new signing for the DSBP, consisting of Mr Black Sheep Matt Ossen. He's presenting here his first appeariance for this label. I would qualify his stuff as dark and gloomy Electro, maybe a bit influenced by PAIN STATION while the vocals remind me a bit to the very old US act G.G.F.H., a band which get something like a cult state, also here in Germany. Don't expect a dance floor filler, this track offers very interesting thick but still dark string sounds and has a strong but deppressive athmosphere. Nice done, I can't await to hear more...
9. ANDRACULOID - Zodiac (Phase 1 Mix) What I heard from this great DSBP band in the last two years is the announced and then delayed release date for their long awaited new full-length CD "Imbalance". We have now a release date in February 2004 - so wait and see. At first we can listen here to a track taken from "Imbalance" which will be in a different version on the album. It is a hard and fast stomping dark electro piece with evil distorted vocals like this band also presented before on other DSBP comps like Cybonetix 2002 and Futronik Structures Vol. 3. Great vibrating drum patterns (listen to the snare!) here, so let's wait and hear what the album will offer...
10. GLIS - Discontent (DIGITAL FACTOR Remix) Comes then the undoubtly weakest piece presented here, a remix by the German DIGITAL FACTOR for GLIS. Again, I'm ashamed by my German fellowmen, presenting us here totally uninteresting sounds like we'll surely have heard a thousand times before on some pathetic future pop bands. THIS IS NO POP MUSIC CONTEST, GUYS!!! Also the ingredients by GLIS can't save this track, the vocals are distorted but boring and also the composition doesn't make me happier. Skip this track!
11. LIQUEFACTION - Lifeless No, this can't be Mrs Kindel! After the first listening of this track I took again the Cybonetix 2002 compilation just to explore her track "Dollhouse" again (I wrote not that kind words on my review of that...). When I compare both tracks it is to me a difference like night and day! The new and (of course!) unreleased "Lifeless" offers a great steady beat, excellent melodies, several buzzing bass lines and a wonder of a vocal interpretation - top notch, it touches my heart!!! What a remarkable track - forget all that highly praised female fronted bullshit out on labels like Alfa Matrix - and set a monument for Mrs Kindel for this piece!
12. DIVERJE - Companion (Clarence Boddiker Mix) DIVERJE offer us an unreleased remix of this more slowly track, originally taken from the DCD "Amphibian". This remix offers some guitar hints added and a drum programming which seemed to influenced by Big Beat. A typical American sounding remix I would say, and surely not my cup of tea. It is a rollicking remix with a good vocal performance by Tommy T. which deserves my deepest respect. But again I don't like that kind that much, and after listening intensive to "Amphibian" I know what this band can offer...
13. IWR - Access Denied Again, a newcomer to me (and this compilation seems to be a nice collection especially for new and still unknown bands...) which offers good overdriven bass drums combined with highly distorted male vocals and good samples. The whole track is almost a fast and energetic Electro piece with an easy refrain. The only flaw I can find find here are the female vocals in the refrain. They do not bite me and it doesn't fit at all when they sound like hailing from a bedroom...
14. FREQUENCY CONSTRUCT - The Fallout Next to TYPE001 also the other new DSBP signing act presents us here its first track on this label. Danceable EBM/Electro with distroted vocals combined with a solid melodic work are the ingredients. The debut CD of FREQUENCY CONSTRUCT is announced to be released in February 2004 and I am (again - and again - and again) curious. This track is surely not the best of the best but solid and original enough to get some attention. Let's wait for the full-length...
15. RE-AGENT - Heaven's Falling You have to listen to a DSBP compilation until the last second of the last track is over. If you do not so you will surely "forget" one the best tracks on this comp here!!! RE-AGENT offer us a great dark pulsating piece with some fine percussion included. The vocals are angry and distorted and well placed, the melodies are rather simple but damned effective. I like this one a lot, check this out!!!
16. NEIKKA RPM - Surrender (Scorpion) The end of this comp is provided by NEIKKA RPM, a female fronted band also recording like GLIS for the Alfa Matrix label. They offer us a danceable piece with some monotonous and icy vocals. The whole athmosphere of this piece is rather icy. But as I said before: female fronted bands are not my cup of tea and this one sounds a bit too monotonous, a bit too boring to me to grab my attention...
This more than 74 min. long compilation has so much to offer for you - it would be a shame if you don't buy it. Forget all those overtuned Synth Pop or Power Noise genres - enjoy this compilation of hard hitting pounding EBM/Electro/Industrial (or how you would like to name it...), it worth every cent of your investigation! What are you waiting for?
---