REBUILDESTRUCT


Tommy T. Rapisardi/ in-FUSED returns with a long awaited 2nd album! During the last 10 years DIVERJE/ DSBP RECORDS/ CYBERAGE RADIO took most of Tommy's time, but the passion for making experimental music in many of its forms has remained...the compositions continued and ready to be heard and unleashed to all! These 17 tracks are creations of new and some older and mixing into a cohesive, yet diverse album which pushes this project forward!

Partnering up with CHRIS COZOT(iammynewt) on 2 tracks "calico", "rebuildestruct" gives this album an extra incentive and attraction of these 2 creative forces!!

POWER NOISE/ IDM sounds are dominant on "shank", "decreption", "donut snatcher", "apalone", and an amazing remix from REGULATOR!! Mostly an instrumental album with full on DANCE TRANCE on "so confused", CHILL ELECTRONICA on "transit", "behind you"... + "down-FUSED" brings some ACID JAZZ ELECTRONICA to the mix :-)

The vocal tracks on the album display the more melodic, dark and relaxed side of TOMMY T. RAPISARDI's distinct vocal sound..."as you climb", "penetrate", "rebuild(v2)", "no trust", and "obey" display a new wave/ electronica/industrial mix reminiscent of the 80's-90's! "whore' is an early track, heavily sampled and harsh as hell!!

This album is about diversity and of course a full album of non-predictable experimental industrial/ idm/ noise/ electronic sounds! TOMMY T. thanks you for listening to his solo(mostly) project and spread the word to all!!


in-FUSED - "RebuilDestruct" 2014
-----------------------------------
tracklisting

01-         CALiCO ( w/ iammynewt)
02-              SHANK
03-             DECREPTION
04-             as You CLIMB
05-             DONUTSnatcher
06-             PENETRATE
07-             so CONFUSED
08-             REBUILD (V2)
09-              DESTRUCT (w/ iammynewt)
10-       SHANK( REGULATOR remix)
11-               traNsit
12-               NO TRUST
13-               WHORE
14-               Apalone
15-                down-FUSED
16-                 obey
17-                 Behind you

c) 2014 TOMMY T. RAPISARDI/ DSBP RECORDS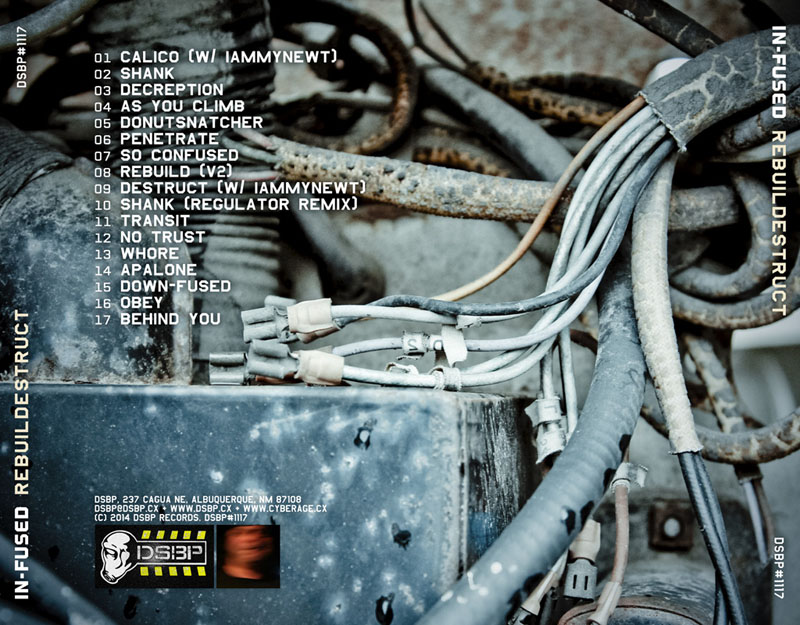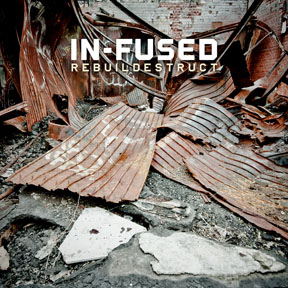 ARTIST: in-FUSED
TITLE: "rebuildestruct"
FORMAT: CD
LABEL: DSBP
CATALOG #: DSBP#1117
RUNNING TIME: 72:42 minutes/ 17 songs
RELEASE DATE: FEBRUARY 28TH, 2014
DISTRIBUTION: DSBP, ISOTANK, STORMING THE BASE(North America), POPONAUT, INDIETECTIVE(GERMANY),MUSIC NON-STOP(U.K)

RETAIL PRICE: $12.00, $15.00(ppd)

in-FUSED - "RebuilDestruct" CD PRE-ORDER $15 ppd [preorder]
in-FUSED -"misplaced" CD added in signed for $20 ppd!! [preorder with bonus cd]

in-FUSED WEBSITES:
[dsbp.cx]
[facebook]
[soundcloud]